iFind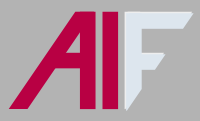 AIFind Project



Category:

Research project


Duration:

2006 - 2010


Funded by:

ELMOS Central IT Services GmbH


Project holder:

Institute of Knowledge Based Systems & Knowledge Management

Integrated circuits (ICs, chips) are produced by the semiconductor industry on circle shaped disks called wafers. The highly complex production is therefore following multiply process steps from which each could result in defects in the micro structures through changes in process parameters.
To ensure the quality the chips are tested within and at the end of the production cycle through electrical measurements and environment and technology tests. The information gained through this steps are potential sources to identify and remove real and potential sources of defects, but the pure mass of production related data following the high requirement of monitoring is ranging in regions that render manual analysis and detection a time critical and often impossible task.
This already critical data amount is steadily growing and supplemented by additional but not optional product related sources. While this is a continues and present problem it becomes immensely critical if the delivering deadline is near or if an expert involved in the analyzing process is leaving the company or became equivalent unavailable.
The ifind (Intelligent Framework for Interrelation Discovery) system aims to face this problems to aid, accelerate and enable a contemporary evaluation of production data. The system provides the possibility to list and select case related production data and reduce them to a human manageable size of factors with relations to the misled factor of the problem occurrence.
Within the discovery process the software is following the three main processing steps:
Extraction:

To ensure a solid basement for the analyzing steps the related parameter sources are chosen and fused. The user then defines problem classes based on the selected parameters.

Reduction:

Based on a application fit feature selection technique a limited set reduced and related parameter sets is built and created.

Classification & Evaluation:

Based on the problem classes we are now able to classify and evaluate the created sets and present the most fitting selection representing the overall event of the problem occurrence.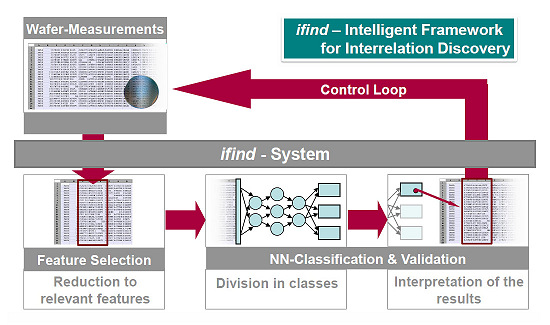 Fig. 1 : The ifind system process loop.
Projektpartner: ELMOS Central IT Services GmbH


Contakt
Dr. Christian Weber, christian.weber{at}uni-siegen.de