Knowledge Based City

Knowledge Based City

A sustainable urban planning concept for the munipicality of Tehran

Category:

Research project


Duration:

2009-2011


Funded by:

cofinanced


Project holder:

Institute of Knowledge Based Systems and Knowledge Management

Today municipalities need to adapt themselves to satisfy citizens by applying progressive methods to ensure providing proper urban services and achieving sustainable development. Especially the Tehran Municipality, as the main responsible for the complex urban planning in the metropolis of Tehran, which is confronted by many problems and challenges, such as traffic and transportation, air pollution, waste management and recycling, crises and disaster management, cultural and social problems and much more issues, is in need to use modern approaches to provide human focused and citizen aware urban services, to guarantee fulfilling daily tasks and goals.
To be able to estimate the situation in Tehran Municipality and provide recommendations for a knowledge based development, we analysed components for an Intelligent City which provide the capacity for citizen satisfaction, disaster management, extended utilization and environmental management. Furthermore, we investigated the needs for sustainable planning in a Mega City like Tehran, based on energy consumption, air quality and water quality, stable infrastructure and the potential for information technology and systems.
In this context, what needs to be managed and prepared for creating a Knowledge-Based City are information and information sources associated with city organizations, public knowledge and societal and city values for an intelligent integration. This integration aims at making use of intelligent methods to reduce the problems and drawbacks that can appear in Mega Cities, while laying a fundament for future technologies and challenges. We are going to establish a knowledge based cycle for creating new ideas which should meet the new requirements in 21st century for the Mega City, Tehran.
The Tehran Municipality has wide range of information systems and defined visions, strategies, roadmaps and plans towards sustainable urban planning and development. Knowledge Management will act here as an approach capable to analyze and manage problems and challenges efficiently and effectively by applying organizational methods and modern technological infrastructures and furthermore supports the re-engineering of organizational structures, reforming of consumption styles and collaborating of citizens and human resources. We believe that KM is the only way to accomplish these goals because of its strong capabilities for integration of systems towards fulfilling organizational goals.
The Knowledge Based City approach has a multi-stage focus:
Problem Recognition:

If a problematic situation has been identified; it has to be further analyzed, with respect to different categories of (strategic) goals. A comparison between target and actual situation is conducted. Existing strategic guidelines or master plans can provide a reference system for evaluation. For the evaluation phase, Knowledge Management methods are mainly useful for providing a comprehensive overview of existing information regarding the current issues.

Formulation of goals:

Within this process, KM can support collaboration and communication between the persons who are responsible for defining the goals. Access to a knowledge base, and especially to former project documents, can support the planners in defining the right goals.

Design of conceptual plans:

The design of plans is a creative process, supported by the initial requirements studies. Information systems, and especially Knowledge Management systems can guide and support urban planners in this process. While developing new plans, urban planners are dependent on previous project experiences which could be reused or inform the new process. Methods of case-based reasoning can be used to compare current planning cases with former ones.

Success Monitoring, Evaluation of realized projects:

During the execution of the project, and after finishing it, the results of the projects are to be compared with the previously defined goals. It is analyzed if new problems arise during plan execution, and if these problems require a new planning process. Regarding the use of KM within these phases, especially tools are required which support to share the required information between stakeholders and planners.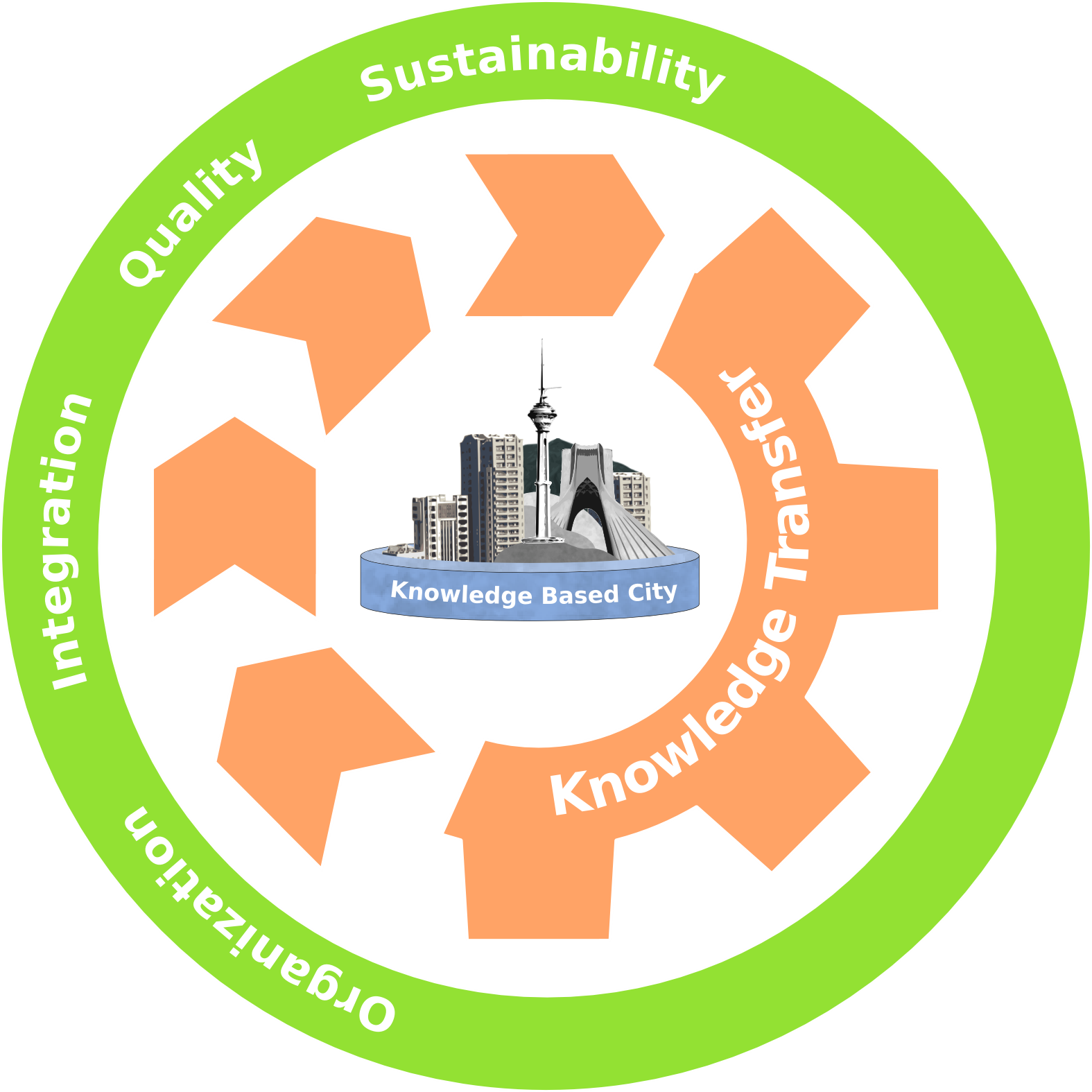 In the developed Master Plan, our model to use a KM-approach for smart urban planning design is described in the first levels. We successfully proposed the mechanism and steps needed towards a realization of a Knowledge City to the Tehran Municipality. Particularly we described a realization of our approach through five proposed projects and explain the testing phase for this part.
The KB-CITY sustains cultural, social and organizational benefits for Tehran Municipality. We emphasize the role of the local authorities and institutions as the Tehran Research and Urban Planning Center, as the strategic unit to support and promote the proposed models and their capabilities and potentials for a next stage Knowledge Based City.