Med-Assess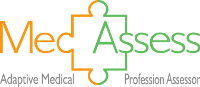 Med-Assess

Adaptive Medical Profession Assessor

Category:

EU Research project


Duration:

2012 – 2014


Funded by:

EU Lifelong Learning Programme – LEONARDO DA VINCI Transfer of Innovation


Project holder:

Nationale Agentur für Europa beim Bundesinstitut für Berufsbildung (NA-BiBB), Bonn, Germany


This project has been funded with support from the European Commission. This communication reflects the views only of the author, and the Commission cannot be held responsible for any use which may be made of the information contained therein.
Med-Assess is an innovation transfer project in the context of the LEONARDO DA VINCI transfer of innovation call 2012 of the national agency in Germany (Nationalen Agentur Bildung für Europa beim Bundesinstitut für Berufsbildung (NA-BiBB)) for the "Lifelong Learning Programme" of the European Union.
The project consortium consists of the following partners:
University of Siegen, Institute of Knowledge Based Systems (Coordinator), Germany
Universiteit van Amsterdam - Amsterdam Business School, The Netherlands
Beta Klinik GmbH, Bonn, Germany
Corvinno Technology Transfer Center Nonprofit Public Ltd., Budapest, Hungary
The core idea of the Adaptive Medical Profession Assessor (Med-Assess) is to measure knowledge of employees in the medical field (e.g. nurses) regarding certain work related topics and also to provide learning content or courses based on the assessment results. The aspired solution is declared adaptive as it will be possible to model different job roles and thus to fulfill the requirements of standard and specialized clinics alike. Beside the assessment of the employed staff, a solution will be provided for hospitals and clinics for evaluating and comparing the skills of new job candidates. With regard to the international context, Med-Assess can be used for determining whether a foreign applicant holds similar knowledge and qualifications than a local applicant. The solution will provide a web interface and a backend area for modification of content and job roles.
At first the roles of basic care and neurological care are focused by the consortium. The project partner Beta Klinik will support in modeling the job requirements and topics, as well as offering the central test environment. Furthermore potential clinics or medical institutions will be asked, if they want to take part in the pilot testing. In the long run, the consortium plans to commercialize Med-Assess not only for the pilot institutions but also for any clinic who wants to integrate this instrument into their field of operation.
For more Information please visit: www.med-assess.eu and for any question about Med-Assess project, please do not hesitate to contact us via info(at)med-assess.eu.